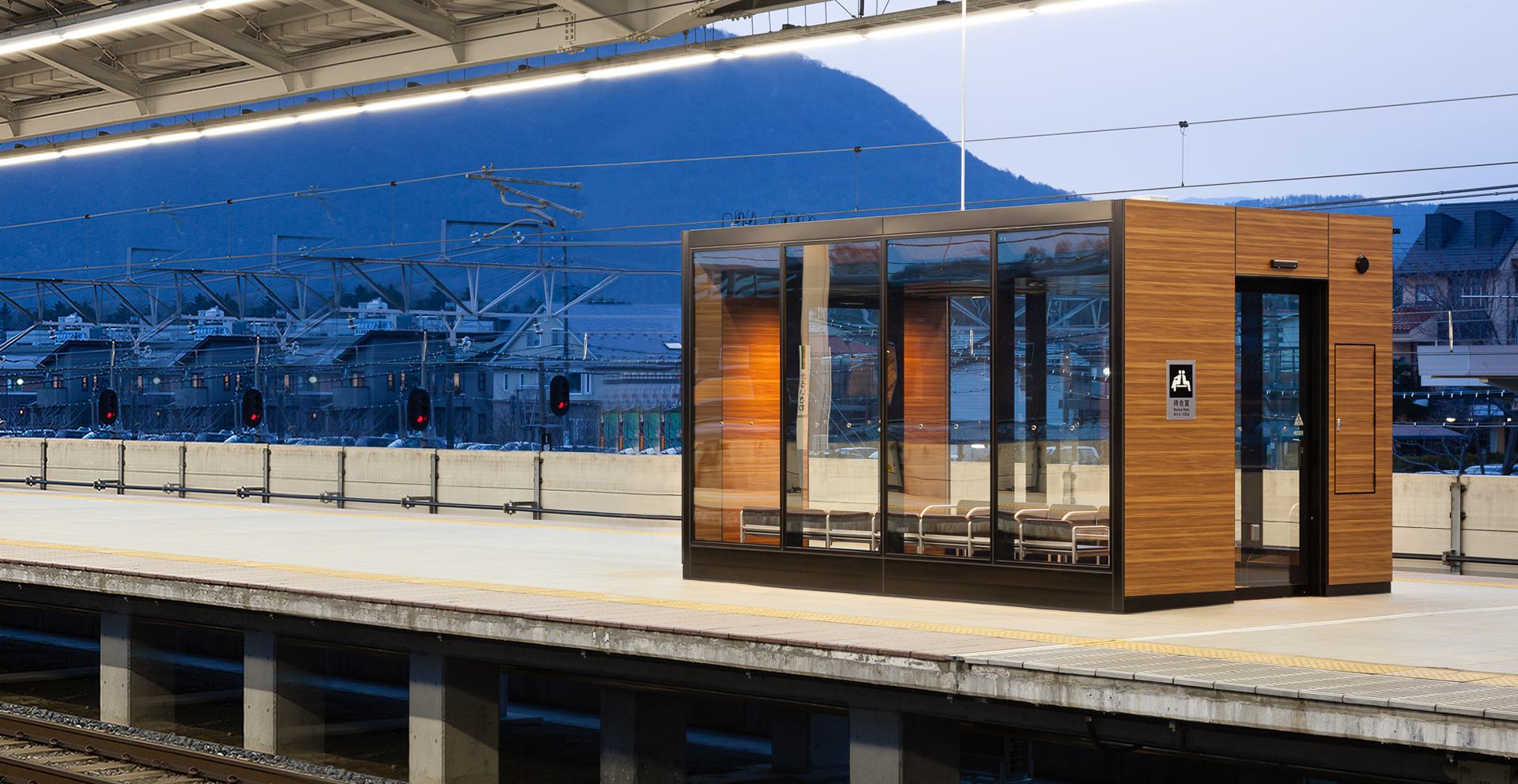 Lightweight aluminum allows smooth facilitation even in sites with difficult loading conditions
The short construction period mitigates construction risks.
The aluminum unit system, both easy to assemble and lightweight, is ideal for spatial construction within train stations and on platforms.
Waiting Room
Waiting Room
Features
A rust-resistant, hygienic, and bright waiting room realized in a short construction period
Since 2008, ecoms has provided over 170 aluminum waiting rooms and stores to train station platforms and premises.
Since the structural calculations comply with the Building Standards Law, stations can install them confidently even in public spaces accessible by numerous users.
Since the parts are assembled in advance at the factory, unitized, then transported to the site and assembled, we can offer high-precision products with quick turnaround time even to sites with severe construction conditions.
The units can be used not only as waiting rooms but also as shops or other facilities.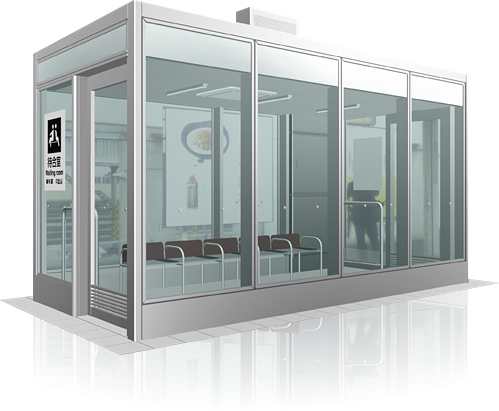 Short construction period
Since we merely put together the units assembled at the factory, construction is efficient even at sites with poor loading and construction conditions.
From the assembly of the aluminum framework, the unit can be delivered in four days (excludes equipment).
Safety
Heavy machinery is unnecessary due to its light weight. Loading and construction can be accomplished manually.
The short construction period minimizes disruptions to customer flow.
Use of aluminum structural material with superior corrosion resistance
Aluminum is rust-resistant and is aesthetically appealing. In addition, cleaning is easy, allowing for a reduction in running costs.
Aluminum is an eco-friendly building material that can be recycled.
By using the aesthetically-beautiful aluminum, the structural material doubles as the finishing material and makes logical design possible.
Experience and reliability rooted in over 170 past installations
Since 2008 we have delivered aluminum waiting rooms and shops to various public spaces such as train station platforms and station premises.
Safe and secure waiting area
Standard specifications feature products that comply with the Building Standards Law. Our designs take wind resistance and seismic force into consideration.
Stations can install the unit with confidence even in public spaces where it will be accessed by numerous people.
High visibility and design
We achieved a significantly open design by adopting a frame structure without bracing.
The high visibility contributes to crime prevention on public transport.
Development of usage applications with our abundant experience and know-how
We use our accumulated expertise rooted in experience to expand the unit's application beyond waiting rooms into various shops.
We also propose various plans for development, such as shops in train station premises, stores within facilities, and bus stops in frigid areas.
Basic specifications
Standard size

W: 5.0m / L:2.15m, 3.0m
Standard door specification

automatic or semi-automatic door