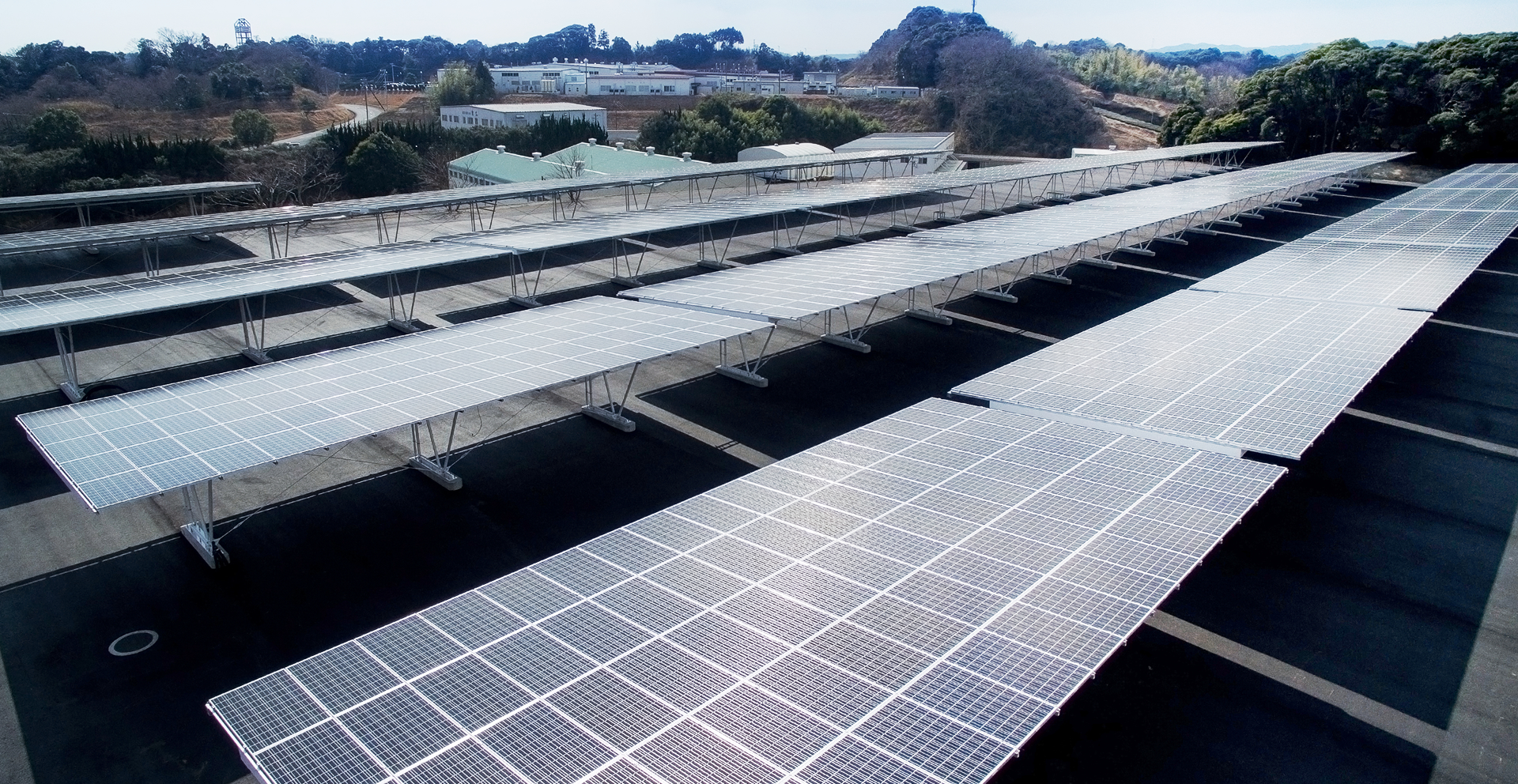 An massive carport that also serves as an evacuation center
A carport featuring a roof equipped with solar panels.
A dual system with capacity to generate solar power as well as serve as an emergency evacuation facility.
Solar Carport
Solar Carport
Features
One Building, Three Roles
Protecting valuable cars and people's lives
Solar Carport
Carport, solar power generator, and emergency evacuation facility.
The solar carport is a next-generation carport that combines the three functionalities.
The carport complies with the Building Standards Law, with structural calculations already completed. The product focuses on safety, taking wind pressure and snowfall into consideration.
Ordinary use
Solar Panel x Carport
An eco-friendly carport that contributes to the reduction of electricity use and cost by supplying its own electric power.
Construction can be completed in as short as one week if it is installed to an existing outdoor parking lot.
Short construction period
We greatly shortened the construction period by using precast concrete as the foundation and omitting the concrete curing process. The installation can be completed in a short period of only one week by packing the parts together at the factory as a kit and shipping as such.
Significant reduction in utility expenses and possible revenue from selling electric power
ecoms solar panels generate about 22kW of electricity per hour (* for one 12-unit carport). Returns on land assets can be maximized through income generated from parking lot use and selling electricity.
Elevate corporate image and customer satisfaction
The incorporation of a solar carport not only reduces environmental burdens by cutting CO2 but also improves the level of comfort among customers and employees during rain if used as parking lots/employee parking lots in large commercial facilities or companies.
During disasters
Solar Panel x Disaster Prevention Center
During emergencies and disasters, the solar carport will also function as a disaster prevention center.
In addition to fulfilling its ordinary function as a emergency supplies storehouse, the solar carport can be used as a lodging or medical rescue facility during disaster.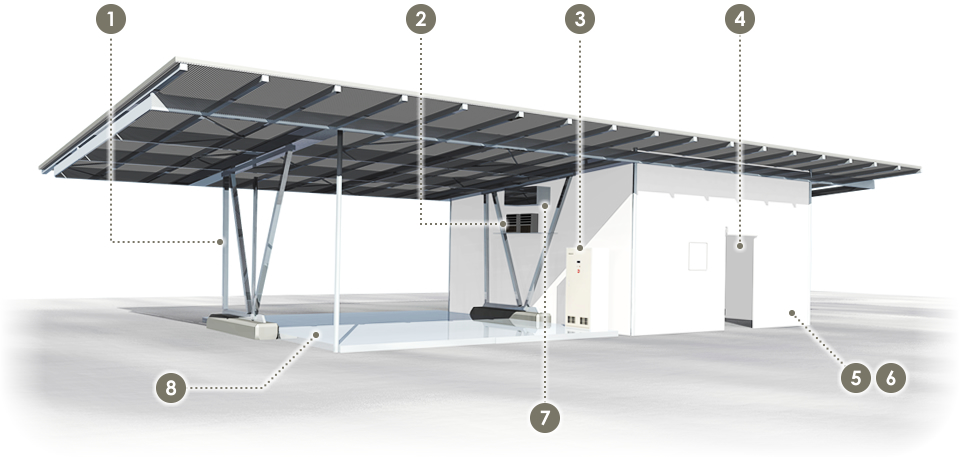 Aluminum auxiliary column for tents

The auxiliary columns can be used as tent poles to set up tents.

Emergency radio system

The emergency information system will promptly and reliably communicate information.
Battery charge/discharge system

The electricity generated by the solar panels can be sold during nonemergency periods and used as a power source in evacuation centers during emergencies.

Entry door

An entry door measuring W700mm x H1600mm. The entry can be opened and closed by rolling up the canvas.
Evacuation facility

An evacuation facility lined with a cold-weather tent canvas 0.33mm thick.

Tent interior

The inside of the evacuation facility lined with tent canvas can also be used as a single room to provide additional privacy.
Aluminum storage shelf for evacuation equipment

(grid shelf)

The grid shelf is highly reputed ecoms furniture. Its aluminum build is lightweight and corrosion-resistant.

Aluminum floor table

Collapsed and stored in the center area during ordinary times. Emergency goods (such as the tent canvas) can be stored inside.
Electricity available even during evacuation
We added a storage battery charge/discharge system to the solar power generation system to secure an emergency lifeline. It can be effectively used as a stable power supply, for example to power lights during power outages, radio equipment to receive disaster-related information, and charge cell phone batteries.
A single room can be created to ensure privacy
The carport is fitted with auxiliary columns that can be turned into tent poles for swiftly setting up tent houses during disasters. The 4.5-tsubo tent house (14.85m2) can accommodate up to 6-7 people for use as an accommodation facility or as an emergency medical facility.
Emergency goods can be stored and always stocked
The shelves can store emergency supplies (drinking water, food, blankets, portable toilets, etc.) and medical supplies (AED, medical kits, etc). They also serve as an emergency supplies storehouse during emergency evacuations.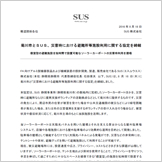 ecoms (SUS Corporation) signed an agreement with Kikugawa city in Shizuoka prefecture regarding the use of its facilities as evacuation centers during disasters.