Product Lineup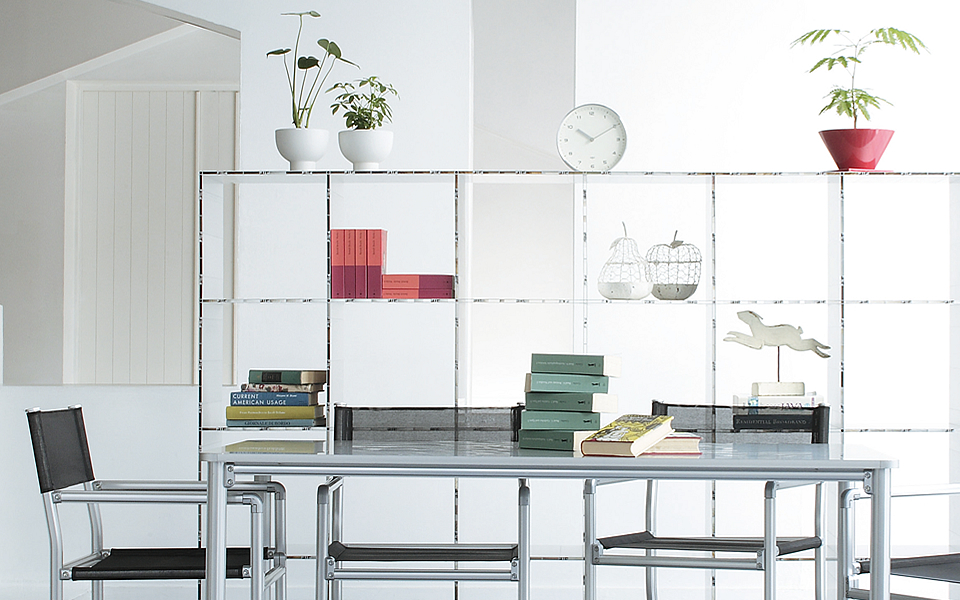 Shelf boards are just 10 mm thick.
The extruded aluminum creates a sharp design.
The four standard parts can be combined to build customized shelves.
The stylish form found in the aluminum extrusion material matches various atmospheres ranging from living space, commercial facilities, to offices.
A flexible design
The four different parts allow the construction of desired shapes. From large wall storage units to display cabinets, it is easy to create fashionable storage pieces.
A stylish form
The aluminum extrusion material has a strong presence and matches various spaces, allowing for flexibility in the installation site.
Ideal for displays
The hard metallic feel of aluminum complements merchandise to make for a beautiful display.
Easy addition and extension
By adding parts, the shape of the grid shelf can be modified to accommodate moves or various room layouts.
Can be recycled and reused
The aluminum material is recyclable and also suitable for reuse. Aluminum has attracted attention as environmentally-responsible, recyclable material.
Standard Modules
There are two types of grid shelves: the series 350 and series 400 modules.
By combining the four different standard parts
It is possible to build layouts in the necessary places, in the necessary sizes.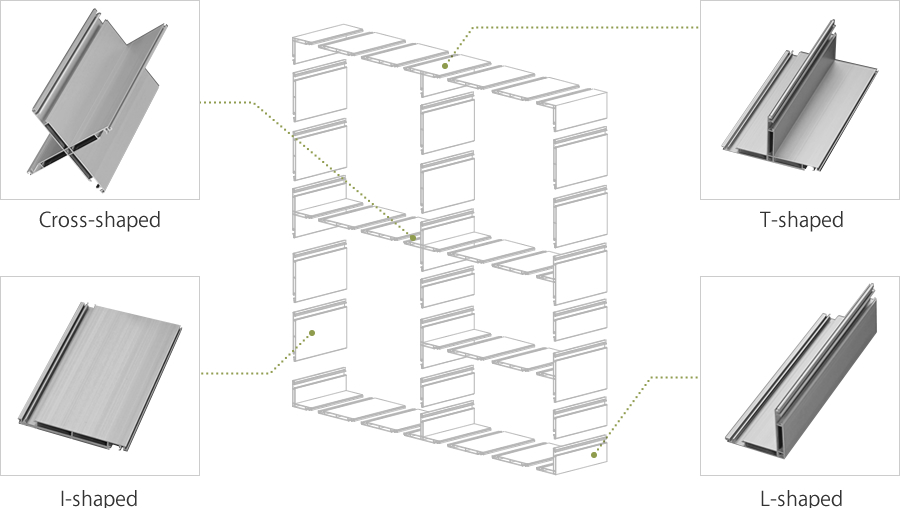 Series 350 Module

Units: in mm
Series 400 Module

Units: in mm
Assembly Procedure
Please prepare the following items in advance for assembly.

Work gloves

Electric drill

Hex key (Allen wrench)

Plastic hammer
1

Confirm all parts

Prior to assembly, please check the attached drawing to confirm whether all parts are present.

2

Join the parts

Tighten with a hex key (2.5 mm) to join the parts.

3

Prepare the power tools

Power tools facilitate the tasks, but please follow safety precautions.

4

Assembly 1

Stack the shelves upward from this state.

5

Assembly 2

Align the edges and fasten with screws.

6

Assembly 3

When the front surface is finished, tighten the screws on the back.

7

Assembly 4

Rather than trying to tighten the screws in a wobbly frame, secure the shelves by temporarily joining the corners, and tightening them once they have been secured.

Steps and precautions during assembly
Please protect your hands with work gloves or other types of gloves during assembly.
Take precautions handling the edges of the frames as they may be sharp.
Do not hit or jolt the grid shelf as it may break and cause injury.
Do not bring the product close to sources of heat such as a stove.
If the grid shelf openings are wide, bending may occur.
Tools are not included.
If the grid shelf is unstable, please fix it against a wall or take other measures to prevent toppling.
Return to Product Lineup