Smoking Booth
Smoking Booth
Product Lineup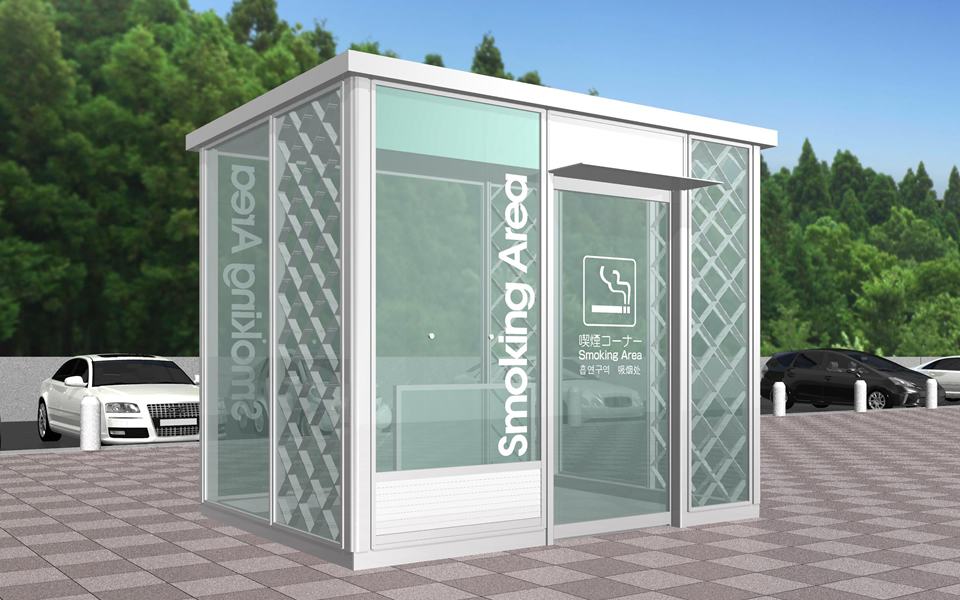 A sealed type with a door to achieve complete isolation from smoke. Since the smoke is contained, the booth ensures the air outside remains clean, allowing non-smokers to spend their time comfortably. The product meets the requirements of the subsidy program offered by the Ministry of Health, Labour and Welfare.
Price

Starting at ¥2,850,000 (plus tax)
Occupancy

Three-four people
Floor area

6m2
Size

Width (W)

3.0 m (* also available in 4.0 m)

Depth (D)

2.0m

Height (H)

2.65m

Ceiling height (CH)

2.55m
Direction of Entrance

Main entrance [width 1.0 m/inner width 0.82 m]
Building Standards Law

[Standards]

Snow cover

100 cm (general area)

Wind speed

38m/s

Roughness class

Ⅲ
Basic Form

[Mat foundation]

Base width

500mm

Depth

400mm

Structural slab (center) thickness

150mm

Bearing capacity

greater than 30 kN/m2
Glass

-
Accessory Equipment

Ventilator (equipment only)
* Prices include the product cost and onsite installation costs (excludes earthworks, foundation works, and electrical work cost).
Return to Product Lineup