Smoking Booth
Smoking Booth
Product Lineup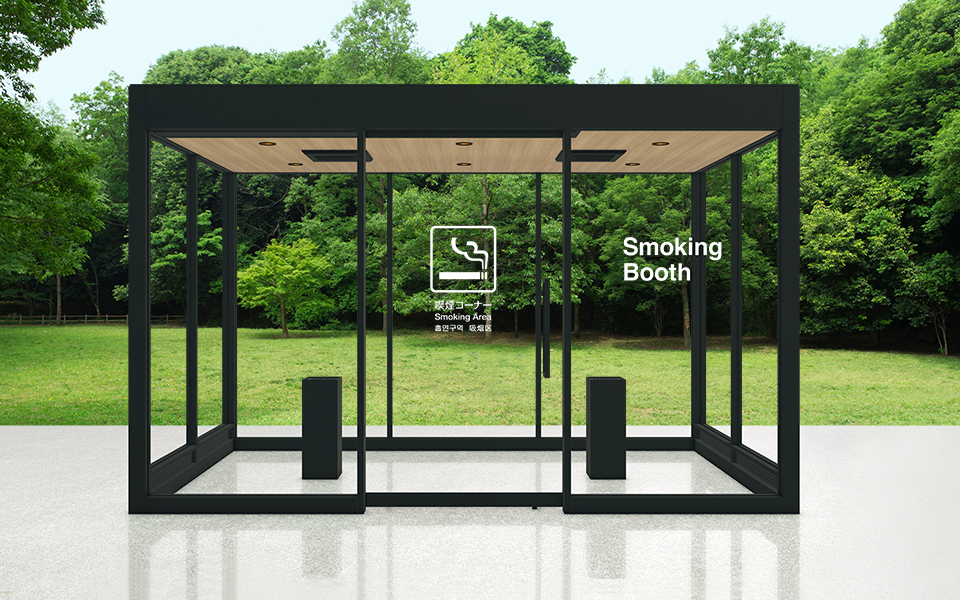 In collaboration with product designer Naoto Fukasawa, this " Alexis Smoking Booth " was created as an initiative to solve the social problems of smoking and non-smoking separation. The product achieves the designer's intended concept: "creating a space with clean air using the simplest possible design."
Price

¥4,000,000 (plus tax)
Occupancy

Four people(Assuming simultaneous use)
Floor area

9.2m²
Size

Width (W)

4.0m(* also available in 2.0m and 3.0m)

Depth (D)

2.3m

Height (H)

2.7m

Ceiling height (CH)

2.3m
Direction of Entrance

Front (effective entrance width: 1.0 meters)
Building Standards Law

[Standards]

Snow cover

99cm(general area)

Wind speed

38m/s

Roughness class

Ⅲ
Basic Form

[Mat foundation]

Concrete Strength

greater than 21N/mm²

Bearing capacity

greater than 30kN/m²
Glass

Reinforced glass
Accessory Equipment

Sign (cutting sheet)
Semi-automatic door
Fan x 1
LED overhead lighting (separate fee for on-site installation)
Waterproof ceiling sheet (outdoor installation)
Inspection access point
* Listed price is for product purchase only.
Return to Product Lineup